BASEMENT/CELLAR WATERPROOFING AND/OR CONVERSIONS:
Instead of moving to a larger property Homeowners, especially those dwelling in conurbation areas usually extended their properties outwards and upwards. Now, as waterproofing methods and technologies become more advanced but also, more economically viable, there is a growing trend of homeowners utilising existing damp and dank cellars by doing a basement conversion and converting basements into bright and comfortable habitable living areas.
We can transform existing unused cellars/basements into habitable areas with our waterproofing solutions, comlpying with the British Standard BS 8102 "Code of Practice for Protection of Below Ground Structures against Water from the Ground" For residential projects we are specialist designer and specialist contractor for basement and cellar conversions, retro-fit basements, new build basements and for underground waterproofing.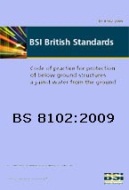 ---

DAMP/TIMBER TREATMENTS:
Prior to introducing any damp proofing methods it is essential to correctly diagnose the actual source of dampness. Is it rising dampness, condensation, penetrating dampness, or simple floor/wall joint bridging? Get the diagnosis wrong and remediation is likely to be wrongly specified. Dampness will then persist, and costs incurred in treating the 'wrong' dampness will be totally wasted. After a preliminary timber inspection, our Surveyors will prepare a detailed report and specification for the work of eradicating the outbreak. However, it may not be possible to determine the full extent of the fungal attack until exposure work has been carried out. This may involve removing floor boards, skirting boards and, if serious, plaster from the walls and ceilings.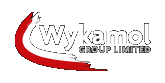 ---

TIMBER ENGINEERING REPAIRS:
Timber decay, either at the end of a beam or mid span usually means that extensive opening up is required to replace the defective section, using steel plates as support for the replacement section. This destructive approach can sometimes be unnecessary; however it is essential that all the required sterilization treatments are carried out to ensure that the timber decay and the type of attack have been fully established. Replacement of the decayed timber with treated structurally connected resin bonded units is a unique solution; no other method comes close to this level of specification, with the repair having greater structural strength than the parent timber, yet provides the visual and practical advantages of the original in terms of shape, appearance, location and ease of fixing.
---

CAVITY WALL TIES:
Cavity wall construction has been adopted since the beginning of the 20th century and offers better protection from the elements, as well as reducing the amount of heat loss unnecessarily from a building.This form of construction comprises of two separate walls connected together at strategic intervals using a metal bar (wall tie) usually made of metal, coated in bitumen or zinc. In the 1980s it became apparent that the wall ties deteriorated much rapidly that expected leading to wall tie failure, thus the need arose for replacement cavity wall tie systems.

---
SUMP AND PUMP SERVICING:

As part of our commitment to customer service and to ensure maximum efficiency from the heart of your structural waterproofing system, the sump pump(s), we recommend that our 10 point "Clean & Check" is carried out on an annual basis, by our Service Engineer.
In order to maintain peak pump performance, provide peace of mind and to maintain your trouble free basement our 10 point "Clean & Check" includes the following;
1.

Remove the pump unit from the sump


2.

Clean out the sump chamber and pump


3.

Inspect the running sequence of the pump


4.

Inspect the alarm system (if installed)


5.

Check the back-up system (if installed)


6.

De-scale the sump and pump


7.

Check the water discharge pipe for blockages


8.

Flush out the perimeter drainage system


9.

Replace defective parts as necessary (parts may incur a charge)


10.

Test the pump ensuring maximum efficiency





Should the pump upon inspection warrant replacement, then you will be notified of the replacement cost and your agreement will be required prior to the installation of a new pump(s).




---

GUARANTEES AND CLIENT PROTECTION:


Our Guarantees cover the following services;


1. Basement waterproofing
2.

Damproofing


3.

Timber treatments


4.

Cavity Wall Ties


5.

Lateral restraints


6.

Masonry Repairs

In addition to our own guarantee, for a very small once only premium, we are able offer INSURANCE BACKED GUARANTEES through being approved members of the CGS (Construction Guarantee Services) thus an insurance certificate specific to your property can be provided.

Of course the insurance certificate is issued by an FSA authorized and regulated UK insurance company.

Our installation (workmanship) is backed by £5m Product Liability Cover.


Our guarantees along with the optional insurance backed guarantees are for a period of 20 years from completion of the remedial work.

To item 1 above, the guarantee period is for 10 years, however, following this period, if the waterproofing system has been maintained by us annually, then the period can be extended for a further 10 years.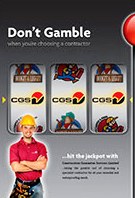 ---

HEALTH AND SAFETY AT WORK:

Our

company is required by law to consider all aspects of its work in terms of the effects that such work has on its employees, its customers and anyone else (including animals) that might be affected by what we do.

We are also required to have written policy statements and comprehensive health and safety systems available for inspection at our office.




These detail how health and safety is dealt with in the company and who is primarily the responsible person or persons. We have carried out risk assessments of the hazards that might result from the chemicals we use and in the way in which we use them.




These are supported by documents (Material Health and Safety Data Sheets) provided by our chemical suppliers. This in turn leads us to provide our technicians with personal protection equipment (e.g. gloves, goggles, safety footwear, etc.) and to provide health and safety information to our customers when required.




The company is required to monitor its health and safety performance and to review this from time to time, thus improvements to our health and safety regime are always ongoing.

---